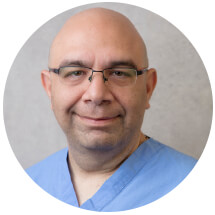 SHAH ASKARI, DPM
"If your feet cramp, feel cold in bed at night, or if you think you have neuropathy, you need to find out what's causing it," says Dr. Shahram Askari. "In the past, patients have been given medications to suppress these symptoms, but now that we have the tools, I think it's important to diagnose the problem."
Often, patients are given medication to address their symptoms rather than to diagnose what is creating the problem. Through diagnostic technology we can identify why patients are experiencing the symptoms and often correct the why.
For many patients, these symptoms may be due to poor circulation. There are new diagnostic techniques that are now in use to learn if there are blockages in the blood vessels below the ankle. "Discovering this condition can be life changing," explains Askari. "If you're not finding relief with your current treatment, it's important to know other potentially more effective options may be available."
Dr. Askari graduated from the College of Podiatric Medicine, Temple University in Philadelphia, Pennsylvania and completed his residency at St Luke's Medical Center in Phoenix, under the directorship of Kerry Zang, DPM. Dr. Zang was so impressed with his abilities and compassion, he asked him to move his family to Arizona and join Arizona Institute of Footcare Physicians. They have worked together since 2005.
He recently lectured at the Superbones Superwounds East Conference in New Jersey on "Regenerative Medicine Therapy in a Clinical Setting." Dr Askari is also the co-author of "Low-Level Laser Therapy's Impact on Small Fiber Neuropathy," published on podiatrytoday.com.
Dr. Askari joined CiC Foot & Ankle in April. He is excited to be part of a compassionate team committed to giving patients the highest-quality care possible. In addition to specializing in rheumatoid reconstructive foot surgery, he also treats conditions ranging from bunions, hammertoes and ulcers to ingrown nails, heel pain, and ankle sprains.
PUBLICATIONS
Zang, K., DPM, Kroleski, J., DPM, Askari, S., DPM, & Kaner, S., DPM. (2011, May 26). "Can Low-Level Laser Therapy Have an Impact for Small Fiber Neuropathy?", www.podiatrytoday.com/can-low-level-laser-therapy-treat-diabetic-peripheral-neuropathy.
PRESENTATIONS
Superbones Superwounds East Conference, April 6 – 8, 2018, Teaneck, NJ, Regenerative Medicine Therapy in a Clinical Setting.
 World Congress of Podiatry, October 17 – 19, 2013, Rome, Italy, Biomechanics: Diagnosing & Treating Biomechanical Conditions and Surgical Techniques for Foot Deformities.
American College of Foot & Ankle Surgeon – Division IV Seminar, October 8-10, 2010, Scottsdale, AZ, New Modalities in Treatment of Small Fiber Neuropathy.
EDUCATION
Doctorate Podiatric Medicine
Temple University School of Podiatric Medicine, Philadelphia, PA, 1997
University of California San Diego, San Diego, CA, 1992
RESIDENCY
Luke's Medical Center, Phoenix, AZ, St. Luke's Medical Center Surgical Residency (PSR-12) Phoenix, AZ, 2004 – 2005.
Neumann Medical Center, Philadelphia, PA, Primary Podiatric Medical Residency, (PPMR) Philadelphia, PA, 1997 – 1998.
LICENSURES:
Arizona, Issued 2008
California, Issued 2007
LANGUAGES
MEMBERSHIPS
Member, Arizona Podiatric Medical Association
Member, American Podiatric Medical Association
YOU DON'T HAVE TO SUFFER FROM FOOT PAIN.