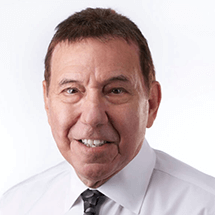 Mark Gorman, DPM
Dr. Gorman has been practicing podiatry in Arizona for over 40 years. He is Board Certified by the American Board of Podiatric Surgeons and is a Fellow of the American Foot Surgeons. He earned his Bachelor of Science degree and Doctor of Podiatric Medicine from the California College of Podiatric Medicine in San Francisco. Dr. Mark Gorman then served his internship in the United States Army. He spent three years in the Army earning the rank of Captain
He recently joined CiC Foot & Ankle, where he is pleased to be part of a group practice. "After fifty years in my own office, this is a great change. I'm so happy to be working side by side with these fine physicians."
Dr. Gorman treats patients ranging from newborns to seniors, striving to get his patients back on their feet quickly utilizing proven techniques in the diagnosis, treatment and prevention of various foot and ankle ailments. His practice encompasses full podiatric care and specializes in surgical repair of the foot and ankle, laser and arthroscopic treatment.
Positions
Podiatric Medicine
Education
California College of Podiatric Medicine
Ohio College of Podiatric Medicine
Pennsylvania State University
Internship
U.S. Army Fort Leonard Wood, Missouri (1966-1969)
Board Certification
Board Certified, American Board of Podiatric Surgeons
Fellow, American Foot Surgeons
Professional Membership
American Podiatric Medical Association
American College of Foot Surgeons
Hospital Affiliations
John C Lincoln – North Mountain
Abrazo Central Campus, Formerly Phoenix Baptist Hospital
YOU DON'T HAVE TO SUFFER FROM FOOT PAIN.