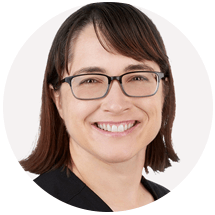 Diana Perry, DPM
Dr. Diana Perry specializes in limb preservation and trauma of the foot. She views working with her patients as a partnership, knowing that together is the best way to keep them on their feet. "One of the biggest ways to keep people engaged in life, is moving," says Dr. Perry. "If I can help my patients move through their day and help them overcome obstacles, it's huge to me. I'm excited to do my part when it comes to feet."
She graduated from Western University of Health Sciences, in Pomona, California.  Dr. Perry received her residency training at Englewood Hospital, in New Jersey, and served as Chief Resident of Clinical Education her last year there.  She then went on to complete a Fellowship program at Keck School of Medicine at the University of Southern California.
Dr. Perry was the recipient of a WICHE PSEP Scholarship. As part of the award, she has committed to caring for underserved communities in Northern Arizona. "It's so important to be connected to the community," says Dr. Perry. "One of my goals is to help provide good footwear to those who are not able to buy a sturdy pair of shoes. I've worked on drives in the past and the look on people's faces when they get a pair of good shoes is pure joy…that's health, that matters."
As part of the CiC team, Dr. Perry works closely with specialists in interventional radiology, cardiology, and phlebology. This team approach leads to improved outcomes and better lifestyles for patients.
PUBLICATIONS
Perry, D., DPM, Yuan, J., DPM, and Demoleas, S., DPM. When a patient with multiple comorbidities has excessive bleeding from a nodular lesion and ulceration on her left fourth toe. Podiatry Today; 2019:32(10).
Pappalardo, J., DPM, Perry, D., BS, Armstrong, D. G., DPM, PhD, MD. A 10-Step Guide To Applying Split Thickness Skin Grafts. Podiatry Today; 2013:26(3).
Braun, J. D., Trinidad-Hernandez, M., Perry, D., Armstrong, D. G., & Mills, J. L. Early quantitative evaluation of indocyanine green angiography in patients with critical limb ischemia. Journal of Vascular Surgery; 2013:57(5).
Perry, D., Bharara, M., Armstrong, D. G., & Mills, J. Intraoperative fluorescence vascular angiography: during tibial bypass. Journal of Diabetes Science and Technology; 2012:6(1), 204-208.
Lepow, B., Perry, D., & Armstrong, D. The use of SPY intra-operative vascular angiography as a predictor of wound healing. Podiatry Management; 2011:8, 141-148.
RESEARCH
COVID-19 and the Art of Proning: A Multi-disciplinary Proning Protocol for Improved ICU Patient Mortality 2020
The Application of Antibiotic Eluting Tricalcium-phosphate Bone Substitute After Partial Metatarsal Resection to Prevent Re-ulceration and Osteomyelitis Recurrence (in process) 2019-2020
Steven Johnson's Syndrome in a Podiatric Patient: A Case Study, presented at Poster Session at Englewood Hospital 2019
Balloon Angioplasty with Thrombolysis to Treat Chronic Venous Ulceration, presented at American Venous Forum Spring Convention 2018
EDUCATION
Doctorate Podiatric Medicine
Western University of Health Sciences, Pomona, California, 2017
University of Arizona, Tucson, Arizona, 2004
RESIDENCY
Surgical Podiatry Faculty (Fellow), Keck School of Medicine, University of Southern California, Los Angeles, CA 2020 – 2021.
Chief Resident, Clinical Education Englewood Hospital, Englewood, New Jersey 2019 – 2020.
Resident, Englewood Hospital, Englewood, New Jersey, 2017 – 2020.
LANGUAGES
YOU DON'T HAVE TO SUFFER FROM FOOT PAIN.